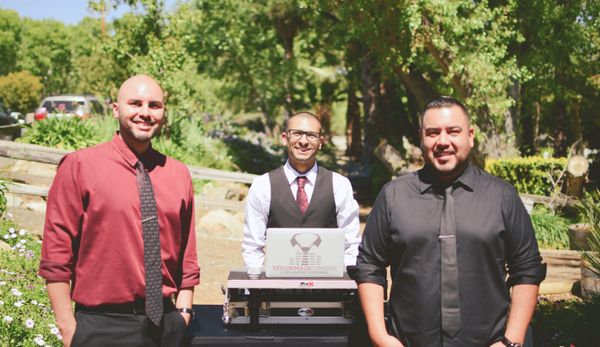 Taylor Mosley- Owner|DJ/MC
Proud father to Eliana and Elias|Devoted husband to Bethany Joy
Taylor Mosley is an American Singer/Songwriter/DJ. Taylor's music is a hybrid of EDM, RnB and Pop.  Taylor has been creating for 22 years, with 10 of those
years as a DJ/MC. Mosley's writing style and voice set him apart, he is very versatile. As a DJ, Taylor is very comfortable mixing multiple genres such as,
but not limited to, Hip-hop, Country, Classic Rock, Latin, House, Jazz, Old school, Funk and Reggae. As a writer, Taylor can write in multiple genres; and as a
seasoned performer and MC, he brings so much contagious energy to any event. Mosley is always working, submitting to placement opportunities,
collaborating with other artists/producers and working on his own music. To follow Taylor's journey, please follow him on his social media platforms.
Affiliations: ASCAP|VOCAL KITCHEN
DJ "Jay" Revenue- DJ/MC
Proud father to Gavin
Turntables and a microphone is what the party scene has come to think a DJ is, but to DJ "Jay" Revenue, two turntables and a microphone
are just the basic tools to the endless masterpieces he creates every time. Mixing all forms of music including but not limited to, Hip-hop, Country,
Classic Rock, Latin, House, Pop, Old school, Funk and Reggae. DJ "Jay " Revenue. Through his travels, he has found that the one commonality in life,
no matter where you come from or where you go, music brings people together and a party isn't a party without music and a great DJ that can relate to the
crowd. Dj-ing for the last 14 years, Revenue has taken crowds on musical highs at multiple top clubs and venues throughout  Southern California.
DJ "Jay" Revenue  is constantly expanding his style, music library, and authenticity. DJ "Jay" Revenue continues to aspire to be the best at everything he
does, whether he is rocking a private party, a top club or venue. He never fails to impress the crowd and keep them wanting more bass in their system! 
David "DJ2DZ" Muniz- DJ/MC
Boyfriend to Crystal, a registered nurse in Temecula Valley and a bonus Dad to her 3 children|Dog Breeder
David Muniz also known as DJ2DZ, hails from Los Angeles CA, where he was exposed to a very diverse music culture.
In 2009, David embarked on his DJ career and hasn't looked back. Throughout the years, he has diversified his skills
and experience, by performing in clubs, private events and weddings. He also expresses himself through music
production, making him a well rounded talent. With his extensive knowledge of music, paired with great energy; he
always delivers a memorable experience.